Comparing Medigap Insurance Plans
Medigap policies have been blueprinted to complement the original Medicare plans. They are known as helping hand in paying of those costs that are not covered by the traditional Medicare. The costs that are left uncovered by Medicare are counted to be of deductibles, co-pays and co-insurance amounts. It's like if one is having a Medicare policy and Medigap Insurance, then Medicare will pay for the approved amount and the rest of amount would be paid by Medigap policy.
Enrolling in Medigap Insurance Plan, facts one should be aware of: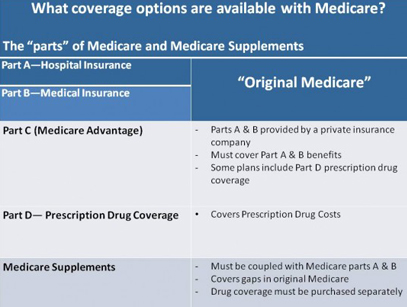 One must have a possession of Original Medicare.
One in enrolled in Medicare Advantage plans and interested in switching to Medigap policy, should do it before the coverage period ends.
Each policy would be providing coverage to one person only.
Any policy is guaranteed renewable even for those who are suffering from pre existing conditions and cannot cancel the policy if the premiums are paid on regular intervals.
Cost of each plan offered by different companies would vary depending on several factors.
The policies sold before January 2006 do not offer any coverage against the prescribed drugs.
The best time considered to enroll in a Medigap policy is the OPEN ENROLLMENT PERIOD. It is counted as the best period as companies cannot refuse any applicant from enrolling in Medigap policy, they can't charge extra premium from those suffering from pre existing conditions and they can't make any wait for the coverage to start.
Medigap Insurance Plans can be categorized into three categories defined as below:
Community Rated Medigap policy :
Known as age related plans, the enrollees require paying the same amount of premiums regardless of their ages.
Issue Age Rated Medigap policy :
Known as an entry age rated plan, the enrollees require paying the premium based on their age at the time of enrolling in the plan. Younger the enrollee is, lesser the amount of premium and they don't change with your age.
Attained Age Rated Medigap policy :
The amount of premium is based on the current age of the enrollee and it keeps on increasing as one turns older.
This does not only help the companies to fix the amount of premium but also to the enrollee to calculate the cost to be paid today and in near future. These policies are marketed into the market under ten different plans named under the alphabets A to N. These plans have different features with different price tags attached to them they can be described as below: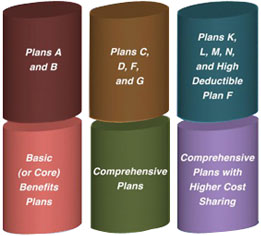 Medigap Plan A :
Plan A is considered to be one of the basic options offered by Medicare and it covers some percentage of the costs for hospital care, doctors, basic necessitates and they are offered at no cost.
Medigap Plan B:
Plan B consists of all the basic benefits that are offered in Plan A and it also covers some part of the deductibles amount for the Plan A
Medigap Plan C:
Plan C is comprised of the basic benefits that Medicare offers with coverage of the deductibles amount for Plan A and Plan B. It also caters to the insurance coverage against the co-insurance for skilled nurse services and it also has an advantage of offering insurance coverage for the emergency times while travelling abroad.
Medigap Plan D :
Plan D consists of basic benefits, Plan A deductibles amount, skilled nurses service's co-insurance amount, insurance coverage for emergency times while travelling and cost for at home services. It is considered to be a middle point for the plans from A to N.

Most of the people confuse it with Medicare Part D, which is dedicated to prescription drugs. It is a private insurance plan designed to cut down the expenses for Part A and Part B plans and it is a medical insurance plan

Medigap Plan F :
Plan F encompasses of all those benefits that are covered by Plan D. Along with those benefits it also pays for the excess amount for Medicare Part B and it has a high deductible amount option.
Medigap Plan G :
Plan G subsumes most of the benefits that are offered by plan F. Apart from them, it provides coverage for the foreign travel emergencies and the at home care services.
Medigap Plan K :
Plan K pays 100 percent for Medicare Part A hospitalization co-insurance for 365 days after your benefits of Medicare end. It provides coverage for 50 percent of hospice expenses that one needs to pay out of pocket, 50 percent of expenses incurred in getting 1-3 pints of blood, 50 percent of co-insurance for the preventive care service, 50 percent of skilled nurse services and 50 percent of Medicare part A coverage. The out of pocket expenses have a limit of $4,621.
Medigap Plan L :
Plan L offers the complete insurance coverage for Medicare part A co-insurance for the hospitalization. It offers 75 percent coverage for out of pocket hospice expenses, blood expenses, part B co-insurance, nursing facility, and Part A deductibles amount. The annual limit for out of pocket is up to $2,310.
Medigap Plan M :
Plan M offers the benefit of insurance coverage for Medicare part A deductible, which is only 50 percent of it and none of the Medicare part B deductible amount.
Medigap Plan N :
TPlan N offers similar benefits of the Plan F. It does pay Part B deductibles with a cost of $20 as co-pay for the visits to doctor and a co-pay of $50 for the emergency room visits. One thing that it does not include is the Part B excess costs.
All the policies should be verified and should be analyzed thoroughly before applying for a policy as it would make the insurance coverage more impactful and useful.