An Introductory Guide to Medicare
Medicare is a social insurance initiative taken by the Federal Government. The program is completely dedicated to provide quality health care benefits to senior citizens of the country. The originating principles state that the primary objective is to make quality health care system accessible to all. The spirit has been kept alive all through these years.
The program is looking after the health care system of more than 48 million citizens of the country. The program offers health care benefits to people and families who would otherwise have been deprived of it. The rising costs have not helped the cause either. This is the primary difference between Medicare and other plans sold by the private insurance agencies.
Medicare covers half of the total medical expenses (48%) for every beneficiary. The policyholders are expected to meet the remaining expenses.
Every person has different health conditions to look after. The same applies in the case of medical expenses. The costs would depend on the kind of treatment received and severity of the disease etc.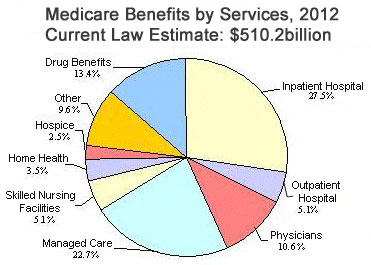 Eligibility & Benefits of Medicare:
A U.S. resident or permanent citizen
Under the age of 65 and receiving SSDI benefits
Patients suffering from Chronic Kidney Disorder
The applicant (or the spouse) must have paid Medicare taxes for at least 10 years. They would be asked to pay premium in case they have failed to meet the conditions previously.
There are no big conditions put in place to start receiving the benefits. These are common guidelines to be adhered in order to enroll in the program.
Medicare has four different types of plan:
Part A: Part A provides hospital coverage. It can turn out to be highly beneficial for patients who spend a lot of time at hospitals.
Part B: Part B provides coverage for most of the outpatient services. It includes: doctor visits, occupational therapy and diagnostic tests etc. The plans offer preventive services like tests or health examinations to diagnose and predict diseases at an early stage. There is also a provision for home based health care and screenings.
Part C: Part C offers all the health services you could ever wish for. It is also known as Medicare Advantage plans. Private insurance companies sell Part C plans. The premium amount is considered to be less in comparison with other plans. These plans are further classified into five different categories. It is a diverse topic, to say the least.
Part D: Part D is one of the most important plans among all the plans. You can save extra money by finding out the right plan. You would be given an extra lifeline to cover the out-of-pocket expenses. There are penalty charges for those who do not enroll in it.
Senior citizens feel a lot safer knowing that Medicare health care benefits would provide required amount of assistance whenever required.
rd/566/70/04272012