Medicare Insurance Plans
Medicare, a social national insurance program was initiated by the State Law. They guarantee Insurance coverage to almost 58 million Americans annually. They tend to provide life coverage at affordable rates unlike the private insurance companies.
All insurance plans have a defined set of benefits. Medicare is serving a large populace of sick, old and low income Americans who are not in a position to afford it. Medicare insurance plan caps 48 percent of health care costs and the rest of the cost to be taken care by the enrollees.
Original Medicare consists of Part A and Part B, responsible for covering hospital care expenses and medical care expenses respectively. They do offer a choice between single payer plan, that is an open network plan covering Part A and B and the network plan, known as Medicare Advantage Plan, where the government pays only for the private health coverage and the rest of cost is borne by the beneficiary.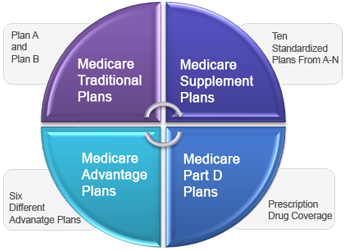 Almost 78 percent of people have traditional Medicare insurance plans and 25 percent of people have Advantage plans. Medicare insurance plans are divided into the following categories:
Original Medicare Insurance Plan (Part A and Part B)
Advantage Plans
Supplement Plans
Part D Plans
All the benefits are based out of the medical necessity and depending on the cost that the enrollee is willing to pay. Each category has been defined as below:
Basics of Medicare Insurance Part A and Part B:
Medicare Insurance Part A:
Part A plans are mostly hospital based insurance plans that provide coverage for all the expenses related to hospitals and do not include any long term care. Most of them do not have to pay for it. The basic medical costs that are covered are:
Hospitals:
They cover the hospital stays, including semi-private room services, nursing, meals, supplies, critical patients care and mental health care. The minimum duration for hospital stay is considered to be three days.
Blood Transfusion:
They cover expenses for the blood needed during the treatment
Home Health Care:
They have limited services available under this option. It includes wheel chairs, medical supplies, part time nursing services, physical therapy and speech language pathology.
Skilled Nursing:
These services are to be related with the diagnosis time during the stay at hospital. The coverage for this particular period is time bounded for 100 days. The first 20 days are covered fully by Medicare insurance plan Part A and rest 80 days are covered with an amount of co-pay to be paid by beneficiary.
Hospice Care:
These are designed for those who have a short span of life. It offers grief counseling, symptom controls drugs and other services. The care giver approved by Medicare visits home and takes care of the patient.
Medicare Insurance Part B:
Part B plans are related to doctors, outpatient care and all those services which are not covered by Part A plans. They cover physical, preventive and occupational therapy services. They tend to aid in providing coverage to medically necessary services stated as below:
Lab tests, screening and clinical trips that aids in defining symptoms help in preventing or managing a particular medical problem.
Diabetic screenings, diabetic instruments such as monitors, test strips and diabetes self management that has been prescribed by the doctor.
Ambulance services, blood pints, emergency care which can be termed endangering for the life are covered.
Home health care services and home use medical equipments are also included.
Insurance coverage for eyeglass expenses is also covered.
They also include limited prescription drugs, physical and occupational therapies, mental health care and dialysis.
Guide to Medicare Advantage Plans:
Medicare Advantage plans are also known as Part C plans. They combine the Part A and Part B insurance plans to create a plan that offers wide coverage. They consist of network of doctors, clinics and hospitals for receiving treatment and the beneficiary needs to make a choice from them.
Most of these plans also offer an insurance coverage even if the enrollee is out of town. There are certain special needs insurance plans that have been created for those who need special health care or are suffering from chronic diseases.
There are four types of Medicare Advantage Plan. They have been listed as: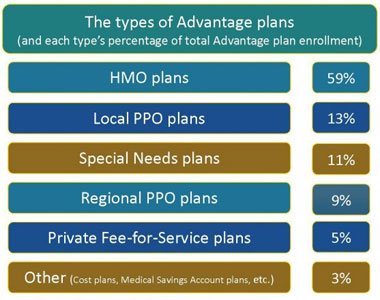 PPO: Preferred Provider Organization plan allows visit to any doctor or specialist. If the doctor chosen is not from the network, then the beneficiary would need to pay extra cost and is allowed to visit a specialist without a doctor's referral.
HMO: Health Maintenance Organization Plans are those plans that allow the enrollee to visit doctors only within the network and cannot visit a specialist without a doctor's referral.
PFFS: Private Fee For Service plans are those plans that allow one to visit a doctor that is ready to accept terms and conditions specified by PFFS and the enrollee does not need a referral to visit a specialist.
MSA: Medical Savings Account is divided into two parts. First a plan that has high deductible amount and the insurance coverage doesn't start till the amount has been met and the second that supports the idea of Medicare depositing money to use for the health care services.
An Insight to Medicare Supplemental Plans:
Medicare Supplemental plans supplement the Original Medicare Plans. Unlike the normal insurance companies and their plans that keep on varying on the basis of cost and benefits offered, each state law has divided the supplement plans into ten standardized plans.
This makes it easier for the senior citizens of the society in hand picking the best insurance plan suiting their requirements. The coverage of the insurance plan selected would remain constant throughout the life span of the plan and one need not to worry about the coverage level that keep on changing every year. They get renewed on their own, till the amount of premium is paid on regular and timely basis. The best feature they offer is that one can choose doctor that they like and that accepts Medicare. The enrollees have no boundations of in network or out network doctors.

These plans have been divided into ten plans named from alphabets A to N. Each plan offers different benefits. Here's an overview of all the ten standardized plans:
Medicare Supplement Plan A:
The basic benefits of Supplement Plan A are:
Provides coverage for Part A co-insurance amount for hospital and for the hospital confinement after specified number of days.
The cost of three pints of blood each year.
Additional stay for one year.
Medicare Supplemental Plans from B-N:
Being standardized, it does not make any difference from which company the plan is purchased, the insurance coverage offered would be same.
Part A Deductibles:
These supplemental plans cover all the deductible expenses for Medicare Part A plans for the inpatient hospital costs.
Part B Deductibles:
Part B is known for offering coverage against the doctors and the medical services. These supplemental insurance plans by Medicare also cover the expenses of Part B deductibles.
Medicare Part B and Excess Charges:
These plans offer coverage for all the excess amount of the difference between the insurance coverage limit that has been set by the state law or Medicare and the total actual billed amount.
Emergency Care in Foreign:
These supplement plans provide insurance coverage in foreign countries also. The only condition attached is that the care should have been started at the duration of first 60 days in a row.
Skilled Nursing:
Medicare supplement plans offer coverage up to the co-insurance amount that is charged, to receive the skilled Nursing services.
Medicare supplement insurance Plan F:
Plan F is of two types. One is simple Plan F covering all the benefits that have been mentioned above and the second one is High Deductible Plan F providing almost same benefits with high deductible amount.
High Deductible Plan F does not offer insurance coverage till the amount of the deductible for the calendar year has been paid. They also do not cover the Foreign Emergency Feature and additionally one would need to pay some of the expenses incurred to satisfy the deductible amount for Medicare Part A and Part B plans
Medicare Supplement Plan D:
Most of the enrollees confuse the Supplement Plan D with Medicare Part D plan. The former supplemental plan can be considered as the middle point plan of Plan A to Plan N. The only difference between the Medicare Supplemental Plan F and Plan D is that Plan D does not cover the expenses of Medicare Part B deductibles and the excess charges of Part B. The latter, Medicare Part D plan offers insurance coverage against the prescription drug.
Medicare Part D Plans:
Medicare Part D plans are the plans that are dedicated solely to the insurance coverage against the prescription drugs, which often are skipped by Medicare Part A and Part B plans. They have been designed to aid people to lower the down the expenses for the prescription drugs. They provide protection for future expenses and have an easy access to medically necessary drugs.
There are two ways of getting enrolled in a Medicare Part D plan. One of them is to get enrolled in Medicare advantage plans like HMO or PPO that provides partial prescription drugs coverage and the second method is to have standalone Part D plan, depending on the drug requirements.
If one decides to enroll in Medicare Insurance Part D Plan along with the traditional one, then they would require paying a separate premium amount. If enrolling in advantage plans having an insurance coverage for drugs then the cost is already included in the overall premium. The plans that do not have drug coverage; they can be combined with Part D plans.
Those who cannot afford the cost of prescription drug coverage can qualify in the income and resource requirement criteria, for the extra help offered by Medicare. This feature helps in assisting one to pay for the additional costs incurred.
Part D insurance plan helps one in saving dollars on those huge prescription drug bills. One can choose the list of the drugs that one needs on the regular basis. The selection of plan or the tier depends on the basis of the residential location, drugs needed and the budget of the enrollee.
Before enrolling for Medicare Part D plans, one is advised to have a thorough check on all the drugs covered under each plan so that they actually serve the purpose for which they have been purchased. One can find the information online by using Formularies.
Thus, in a nutshell Medicare has a wide range of insurance coverage to offer to the senior citizenry.
mv/1950/200/04162012