» Medicare Advantage Plan: Bringing Security to Our Lives.
Medicare Advantage Plan is highly beneficial considering the fact that it enriches the whole experience level of living a healthy planned life. The Balanced Budget Act of 1997 has empowered the private health insurance agencies to provide the benefits instead of receiving them through Medicare.
There are different terminologies being used for Medicare Advantage plans. It was earlier known as Part C plans. Some have also called it as Mediacre + Choice plans.
Plain Facts about Medicare Advantage Plans: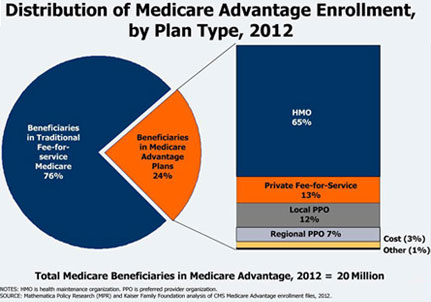 Applicants who wish to enroll in a Medicare Advantage (MA) plan have plenty to cheer about. They know that it can really turn out to be a great decision as the time passes on. You must gather a significant amount of information before jumping onto the bandwagon.
There is a fixed amount which Medicare pays every month. It comes out to be two different premiums to be paid in the end. You have monthly premium for Part B as well.
The good part is that almost all the private insurance agencies offer $0 monthly premium. There shall be no additional costs.
These plans offer as many benefits, if not more, than Medicare. The percentage of people enrolling in it has increased phenomenally over the years.
It must be mentioned that Medigap plan does not work (or compatible) with it. All the facilities would stand cancelled out in any such situation.
Advantage plans provide coverage for vision, hearing and dental care. In some cases, it offers free gymnasium membership to the members.
Medicare Prescription Drug Coverage Plan (MAPD) is a highly sought-after option in the market.
Points to Ponder Over:
It matters a lot what parameters you take into consideration while shopping for a plan:
1. There is a network of doctors and hospitals available in every area. You need to visit the same set of doctors. It can raise a few eyebrows or doubts in the end.
2. A plan is further classified into five different categories. It brings a whole wide range of options to cater to different sections of the society.
The five types of Medicare Advantage plan are:
Medicare Health Maintenance Health Organization (HMO).
Preferred Provider Organization (PPO).
Private Fee-for-Service Plans (PFFS).
Medicare Savings Account (MSA).
Medicare Special Needs Plans (MSN).
These plans are designed keeping specific health conditions or health cases. The popularity graph is soaring to scintillating heights. Senior citizens have found it to be the best insurance product ever made. It has brought an immaculate sense of perfection embedded into their lives. They can continue to live a peaceful life without worrying much about the insecurities of the future time.
rd/525/150/04132012